Help 2.7.3
View Log

command
1. Function
Use this command to display and hide calculator Log, which logs errors and warnings encountered during evaluation.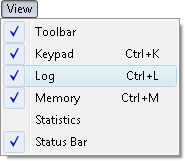 Fig. 1.

View Log

command in menu.

Fig. 2.

View Log

command in Toolbar.
A checkmark appears next to the menu item when the Log is displayed.
2. Shortcut
To perform the command you can use Ctrl+L shortcut.
3. Log auto display
In Preferences you can mark Pop-up on new message if hidden check-box in Log group and Log will be automatically displayed when new error or warning is logged.