Help 2.2.6
File Print

command
1. Function
Use this command to print a calculation document. This command presents a Print dialog, where you may specify the range of pages to be printed, the number of copies, the destination printer, and other printer setup options.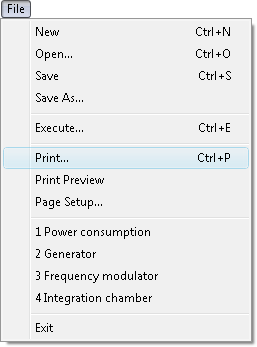 Fig. 1.

File Print

command in menu.

Fig. 2.

File Print

command in Toolbar.
2. Shortcut
To execute the command you can use Ctrl+P shortcut.
3. Prior to printing
Before printing the document you can setup page format using Page Setup command. Among available options are page margins, header and footer content, page number format, fonts, etc. — see Page Setup dialog.