Help 2.1.3
Copy

command
1. Function
Use this command to copy selected data onto the clipboard. This command is unavailable if there is no data currently selected.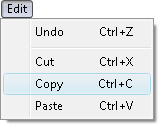 Fig. 1.

Copy

command in menu.

Fig. 2.

Copy

command in Toolbar.
Copying data to the clipboard replaces the contents previously stored there.
2. Shortcut
You can use Ctrl+C shortcut to perform the command.